It is our honor to announce, alongside our partners Cherokee Nation Film Office and Green Pastures Studio, the Finalist's scripts for this iteration of the Storytellers Script Writing Competition.
These Scripts are Liz Stephen's "Rep," Todd Fuller and Randi LeClair's "Cross X Stitches," and Jake Kelley and Wes Ward's "Space Race."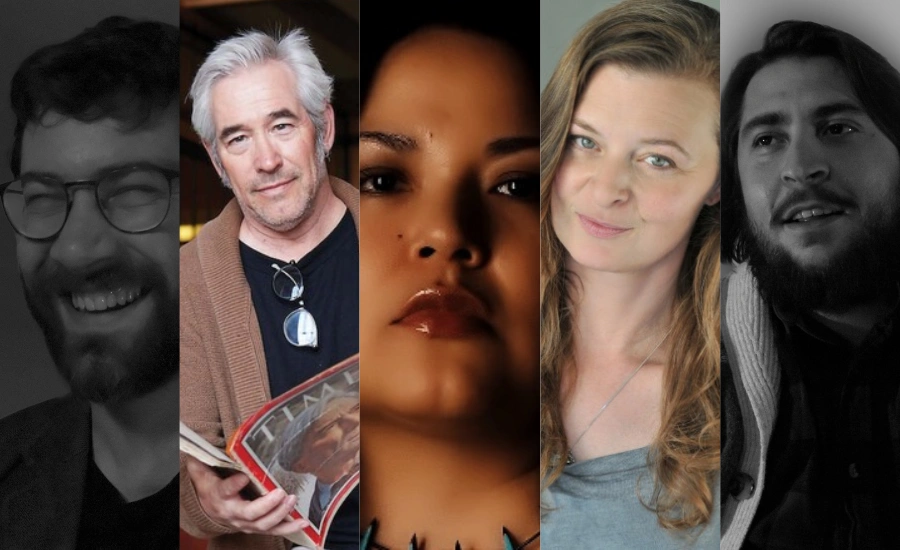 For this season of The Storytellers Initiative, SeriesFest was searching for remarkable writers to give voice to the Native American experience. These pilot scripts had to include at least one Native American character and/or writer, represent an authentic Native American voice, and be accurate in Native American portrayals; scripts were to be void of stereotypes traditionally associated with Native American peoples.
The next step for the finalists is to take part in a two-day creative workshop with industry experts, which includes sessions on 'how to pitch' and mini writers' rooms for all five scripts. The goal of this workshop is to allow the teams at Green Pastures Studios and Cherokee Nation Film Office to further get to know the creators and their skill levels, and determine the Storytellers Initiative winner. The winning artist(s) will have the opportunity for an exclusive development deal from Green Pastures Studios.
| | |
| --- | --- |
| Randi Leigh LeClair (Pawnee Nation) graduated from Oklahoma State University with a BA in English (Creative Writing) and the University of Oklahoma with a Master of Professional Writing (MPW). In 2010, she received a Sundance Native Filmmaker's Lab Fellowship for her short script, "The Other Side of the Bridge." In 2015, she was awarded another Sundance Native Filmmaker's Lab Fellowship for the production of "The Other Side of the Bridge," which premiered at the Tulsa American Film Festival. Her short film, "Rariihuuru," aka The Letter, about Pawnee baseball player Moses YellowHorse, premiered at the Native Crossroads Film Festival and Symposium at the University of Oklahoma in 2017. The same year, she also directed the play Blood Boundary for the Native American New Play Festival. In 2020, she earned an LA SkinsFest Native American Feature Film Writer's Lab fellowship. Most recently, LeClair was awarded a Vision Maker Media Creative Shorts Fellowship for her short film, "The Circle of Chawce." | |
| | |
| --- | --- |
| | Liz Stephens is a recent Native American Media Alliance Episodic Lab fellow, as well as a Stowe Stories fellow and finalist in Sundance Episodic Lab, the NBC Launch Fellowship, and The Writer's Lab/New York. Current projects include REP, in workshop with the Cherokee Nation Film Office and SeriesFest, as well as JOSHUA TREE about four juvenile delinquents working at the national park, and an as yet unnamed project about stripping in Hollywood set in the Nineties. She is repped by Culture Creative/Paul Weitzman. |
| | |
| --- | --- |
| Jake Kelley is an Oklahoma filmmaker, cinematographer, and writer. Having worked in Los Angeles for several years before moving back to Oklahoma City to focus fully on directing. Jake has always enjoyed a good story. So much so that when he was a child, he would tell people about his parents were not actually his parents. In fact, he was an orphan that had been walking down the street one day and decided that a particular house looked especially nice and just decided to live there. The owners of the house would become his parents and accept their daughters as his sisters. Jake has enjoyed making stuff stories ever since. | |
| | |
| --- | --- |
| | Wes Ward is an American filmmaker, writer, and muralist. Born and raised in Oakland he is currently based out of Oklahoma City. After a decade of success as a visual artist and writer, he began to follow his deepest passion for filmmaking. For the past 4 years together with his creative partner Jake Kelley. Having gone from shoestring budgets and DIY make-due magic to award-winning short films, commercials, music videos, and features. Some have even said that Wes has a passion for creating stories that come around once in a generation. A yearning not for fame, nor wealth but a legacy amongst the icons of cinema. |
ABOUT CHEROKEE NATION FILM OFFICE
The Cherokee Nation Film Office assists filmmakers worldwide who are both looking to film within the Cherokee Nation and to accurately portray the lives of Native Americans in film and television. They are driven to expand the presence of Natives in the film and television industries both in front of and behind the camera. CNFO offers the first ever Native Crew & Talent Directories and a unique Cultural Consultants Directory who will all work to help you get the story right. They also partner with the Tulsa Office of Film, Music, Arts & Culture and the Oklahoma Film & Music Office. Learn more about them at their website.
ABOUT GREEN PASTURES STUDIO
Green Pastures Studio sits on a 12-acre campus located 18 minutes east of downtown Oklahoma City. Their campus includes a 5,500 sqft soundstage with acoustically constructed walls and ceiling complete with a 16x16ft elephant door and 27ft ceilings, a 3,000 sqft VFX soundstage with greenscreen, and a 20,000 sq ft standing sets stage which includes a hospital, school, an interior house, and a bar. We have full production suites that can accommodate multiple large film and TV production office needs, all the way down to 2-person offices. For art departments, our facility is home to a 2,000 sqft drive-in construction room, props, and art department stores, together with a full grip and electric package and full catering on site. Outside, the facility boasts fields, forests, and a small lake that can be used by productions.
With plenty of locations within 15 minutes from the studio the only limit to what you can shoot is your imagination.
Learn more about them at their website.
SeriesFest, a non-profit organization, champions and empowers artists at the forefront of episodic storytelling by providing year-round opportunities for creators and industry professionals to connect, collaborate, and share stories, which inspire and impact global audiences. Each June, SeriesFest culminates in a highly-curated and celebrated Denver-based festival and marketplace. Dedicated to showcasing innovative episodic content, the annual festival includes in-competition independent pilot screenings, panels, workshops, live reads, parties, and network television premieres. SeriesFest: Season Nine will take place from May 5–10, 2023 in Denver. Submissions are now open for all competitions.
Feeling inspired? Check out our competitions currently accepting submissions, including our Script Writing Competition with Wondaland Pictures, here.